Would you consider supporting Pate Ministries?
We thank you for your faithful prayers and financial support; we could not do what God has called us to do without your help!
Monthly Support: We are currently averaging about 85% of our monthly support requirements.
We are not supported financially by any mission organization. We are independent missionaries and we are responsible for raising 100% all of our financial support.
All ministry expenses, funds for the functioning of the ministry and the funds for us to minister and to live in Ecuador, come through the direct support of For the Children Ecuador, Inc., DBA Pate Ministries. Our financial support family is made up of individuals, churches and other organizations, whom God has called to financially support this ministry and who give on a one time and or a monthly basis.
All support is sent through For the Children Ecuador, Inc., DBA Pate Ministries, A 501(c)3, non-profit organization.
All donations are tax deductible and you will receive a record of your contribution at the end of the year.
There are many ways to donate
Four easy ways do donate: Bill Pay (with your banking institution), PayPal, Cash App & Mail a Check.
See below for details on each method and several more ways to give.
Give online using PayPal.
Click below to be directed to PayPal's website. The "Give Online" buttons are also linked to PayPal, the following are for those who are used to the standard PayPal buttons.

Option 1: The first "donate" button will allow you to add any amount of donation and have the option to make it a monthly donation
Option 2: The second donate "subscribe" button will allow you to select a pre-selected amount and it will automatically become a monthly donation
Online through Bill Pay
Online using "Bill Pay" through your local banking institution. With Bill Pay, it is usually free through your banking institution. With this option there are no fees involved to us and your banking institution even pays the postage. All you should need to give to your banking institution is our name "For the Children Ecuador, Inc., and the ministry's address: P O Box 893, Callahan, Florida 32011.
Mail a Check
Mail check to:
FTCE (For the Children Ecuador, Inc.) or Pate Ministries
PO Box 893, Callahan, FL 32011
Cash App
You can donate through Cash App. Our info is $PateMinistries.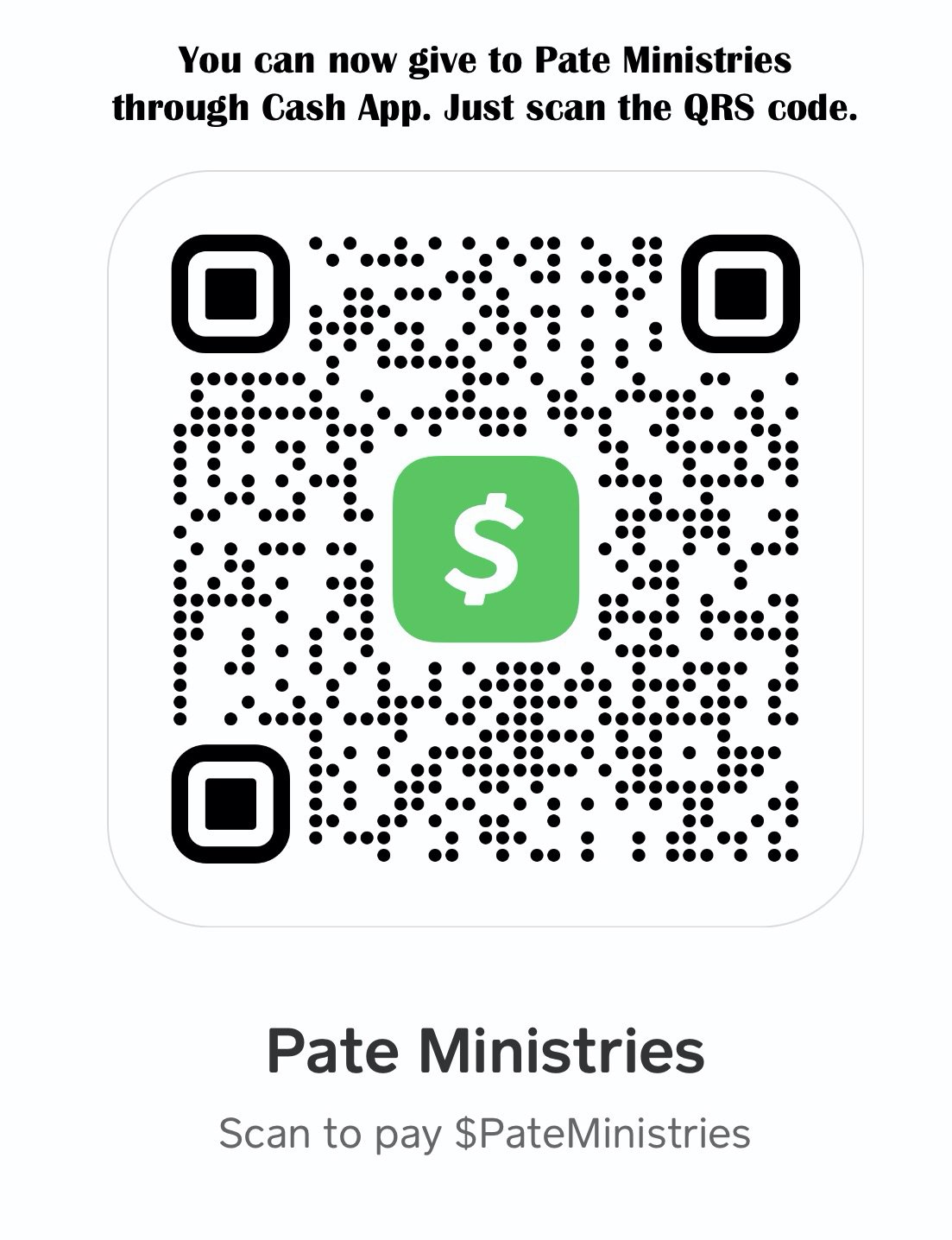 Amazon Smile
Did you know you can support Pate Ministries through your purchases on Amazon's Charity Supporting Website: Smile.Amazon.Com? Amazon created a website to give back to registered charities. If you register your charity as For the Children Ecuador, Inc., and shop on the Smile.Amazon.Com site (bookmark it please) Amazon will give 0.05% of your purchases to Pate Ministries and For the children Ecuador, Inc. It works with your Amazon Prime and it does not cost you or the seller anything.
How about that? You can do your Amazon shopping and support Pate Ministries at the same time without spending anything extra.
https://smile.amazon.com
United Way
Many workplaces promote Untied Way giving amongst their employees, but did you know that you can designate or write-in your own charity that you want to support with your donations? If you would like to support Pate Ministries with your United Way donation, you can write-in "For the Children Ecuador, Inc" on your United Way form.
Disclosure Statement
As required by the State of Florida for any charity soliciting funds the following statement is shown below:
"A COPY OF THE OFFICIAL REGISTRATION AND FINANCIAL INFORMATION MAY BE OBTAINED FROM THE DIVISION OF CONSUMER SERVICES BY CALLING TOLL-FREE
1-800-HELP-FLA OR ONLINE AT www.FloridaConsumerHelp.com, REGISTRATION DOES NOT IMPLY ENDORSEMENT, APPROVAL, OR RECOMMENDATION BY THE STATE." REGISTRATION #: CH32084
Our IRS ID # is 26-4336460. Florida State Registration number CH32084